Category:
News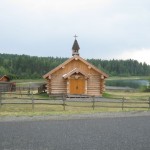 Lady of the Forest was built on the premise of spiritual healing.
The Lady of the Forest Catholic Church, a name given by Bishop Monroe of Kamloops, BC was built as a result of many Prayer meetings held by our Elders.  The Elders concluded that the spiritual component of the Medicine Wheel or The Sacred Circle had been forgotten in their attempt to bring healing to the community. To bring healing to the community they decided to tear down the old church and build a new one for their people.
So we are pleased to announce that this past year a beautiful new log church was constructed in the village!  It is a beautiful building inside and out, and has been a nice addition to the community. Nearly all of the community members identify themselves as Catholic, and nearly all are baptized Catholics. There are plans to have the Catholic priest from Quesnel visit the community about once a month.
Some beautiful restored old photos of the Cassam family out in Kluskus.  Rose Cassam, William Cassam, Mary Cassam, Roseanne Cassam, Veronica Cassam, David Jimmie.
Lhoosk'uz Dene Nation would like to welcome Neil Gauthreau to our administration as our new Lands and Resources Coordinator. Neil brings to his position experience in mapping, information management and Crown consultations.